Collection and Conservation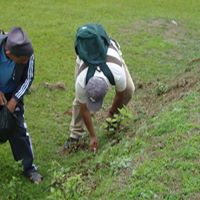 Nepal has five seasons: spring, summer, monsoon, autumn and winter. The high Himalaya acts as a barrier to the cold winds blowing from central Asia in winter, and forms the northern boundary of the monsoon wind patterns. 80% of the precipitation is received during the monsoon (June to September). Winter rains are more pronounced in the Western hills. The average annual rainfall is 1600 mm, but varies by eco-climatic zones; 3345 mm in Pokhara and below 300 mm in Mustang.
It is truly a hidden natural paradise in the Earth. The whole area of the country supports world highest mountains to plain areas, great variety of forests plants, trees and herbs ranging from sub-tropical in the lower altitudes to temperate forests. More than ten thousand kinds of such plants and herbs that can have high medical significance are found in this country. It is believed that huge amount of botanical plants and herbs are available in the country which is not found elsewhere. So, Nepal is one of the living Botanical and Herbal Garden in the world.
According to government source, the Department of Botany has identified the name of only one thousand life-saving medicinal herbs and other plants and some concern individuals and non government organizations have identified more than 1500 different kinds of such herbs and plants. It is believed that there are still huge possibilities to find out or identify such plants especially in between snow mountain areas to settlement areas.
Nepal has a unique landscape of ecological differences with sharp and contrasting climate and altitude with a variation within a small area. Between fifteen kilometers distance, different kinds of climate, ethnic groups and ecological diversities are found. Forest is the prime resource of the country i.e. they are the sources of valuable wood and non-wood forest products such as fuel wood, fodder, resin, medicinal plants, aromatic plants, herbs leaves, grasses dyes etc. Biodiversity and genetic resources are the natural gifts of Nepal and it is not easy even for modern study and research to know about the numbers of plants, their structures and appropriate uses. Till now effective study and research has not been done in this field. Everything is based on estimation and it is estimated that more than 50,000 different plant species are found in Nepal and these genetic resources are now being threatened by population pressure, deforestation, global warming, political conflict, over-exploitation of natural resources, lack of educational knowledge and awareness.
Related With
Contact Us
Nepal Cancer Cure & Herbs
Research Pvt.Ltd
Dillibazar Pipalbot, Kathmandu, Nepal
Contcat No:-
+977-1-4537166
Mobile No:- 9841522174, 9808793322

Website:- www.cancercareresearch.com
Email:- info@cancercareresearch.com
nepalcancercure@gmail.com